Customer Success Story:
Navigating Culture, Characteristics & Customs Laws
PUBLICAN
SECURITY
SHIPMENT
From Latin America to the Asian Peninsula, every country in the world today has its own specific characteristics; laws, cultures, and idiosyncrasies, which are all distinctly part of national identity and are reflected in the customs law. Such laws, which can range from import restrictions on pork and alcohol to strict age limits for used vehicles coming into a particular country, are fundamental to protecting national interests, with different parts of the world requiring importers and exporters to fulfil different requirements.
But with instability and illicit trade posing an ever-increasing threat, the need now to protect those national interests and retain stability has become more important than ever. From discovering counterfeiters and smugglers to alleviating simple misdeclarations, Publican's system goes above-and-beyond standard customs checks to ensure any trade that runs counter to national customs laws is intercepted long before it damages the fabric of the country.
Food
For some nations, the importance of observance around pork means restrictions often includes companies with any history of pork-related dealings. In one case, Publican found a shipment heading from a South Asian country into the Middle East was possibly in violation of the law that prohibits importation of pork after discovering irregularities with the shipper.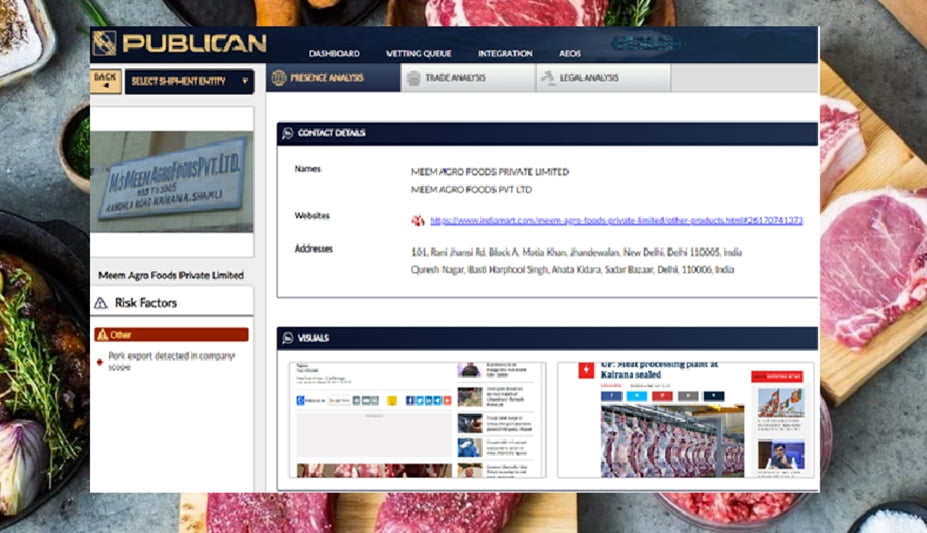 By casting a wide net and inspecting not only every entity directly involved in the shipment but also checking and analyzing the broader business operations of the shipper and the receiver, Publican was able to reveal that:
The exporter had been involved in shipping a variety of meats to other countries including pork.
The exporter had past links to illegal practices, with district authorities temporarily sealing off the company's Kairana processing plant in 2017 after discovering "irregularities."
Alcohol
Many conservative countries around the world today also have import restrictions related to alcohol. In one case, Publican's system flagged a shipment on its way to a Middle Eastern country after discovering goods classified as alcohol in the shipper's submitted bill of lading (BOL).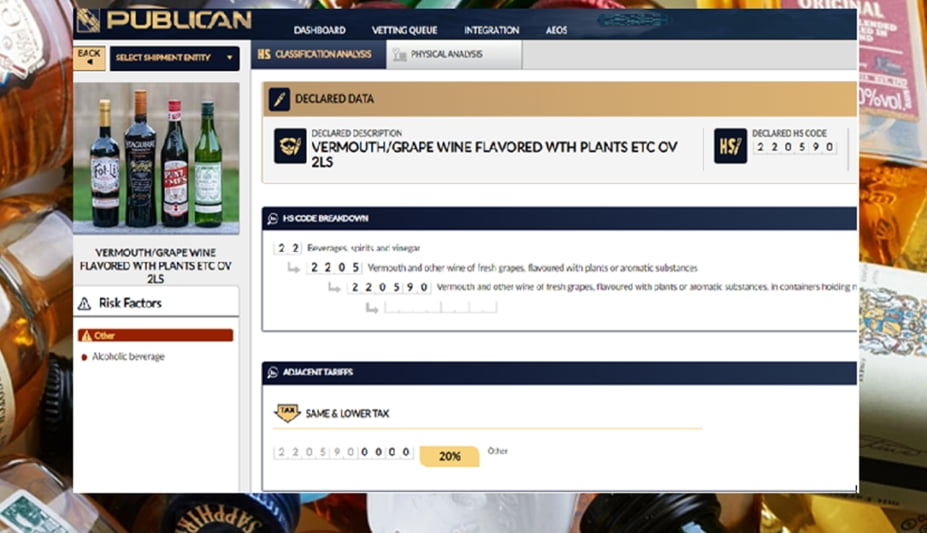 Analyzing every shipment entity, including not only the importer and declaration form but also the exporter and BOL surfaced an innocent 'mistake' that only Publican was able to discover:
The shipment contained alcohol as clearly stated by the HS code classifying Vermouth in the Bill of Lading.
Vehicles
Used vehicles are another category that are usually met with country-specific importation laws usually around the age of the vehicle –commonly a five-year cap. In one shipment, Publican discovered that a shipment importing vehicles into a Middle Eastern country included a Ford Fusion from 2014 – way exceeding the proscribed age limit.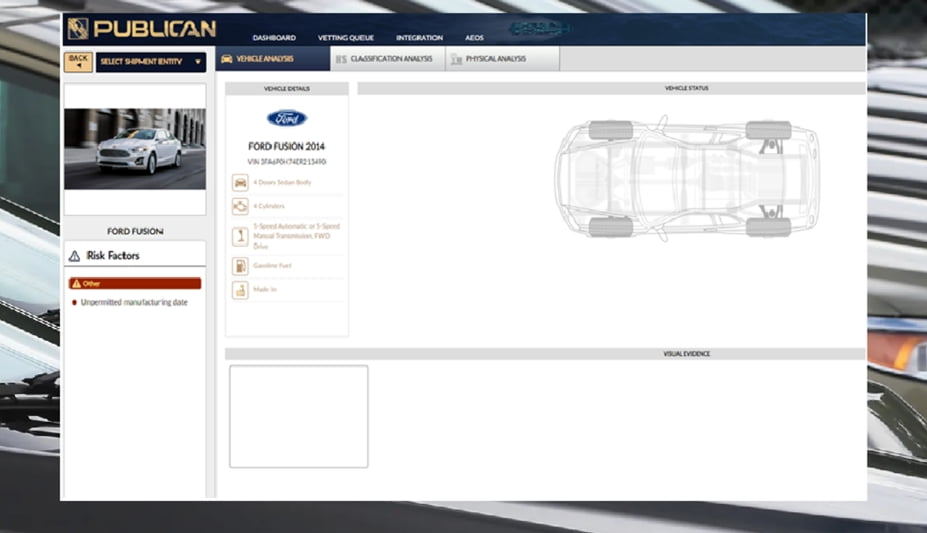 Publican is the only solution that was able to leverage billions of global data points and cross reference them with the VIN of the imported vehicle:
The shipment lacked declaration information, most importantly a model year, which caused suspicion that the importer is attempting to hide something. Publican's digital vetting checks every entity including the BOL which showed that the shipment contained a Ford Fusion model manufactured in 2014 and should be flagged for inspection.
Publican exposes a range of country-specific risk patterns
From product quality standards to religious considerations, Publican is the only solution that encompasses a wide range of risk patterns that are otherwise invisible to customs agencies.
By Combining 3 Critical Capabilities:
Casting a Wider Net of data: Scans every corner of the digital data ecosystem to cast a much wider net of possible insight into shipments, uncovering highly relevant bits of real-time information that would otherwise not be checked by standard customs processes.
Checking Every Entity Connected: Publican uses AI-driven technology to analyze every entity connected to a shipment and cross-checking them against country-specific norms.
Cross-Checking & Contextual Analysis: Through Digital Vetting, Publican's unique value is also driven by its ability to quickly crosscheck and contextually analyze the shipment entities against proprietary global data to find anomalies and flag them.