Customer Success Story:
Misdeclaration of Auto Parts to Avoid Customs Tariffs
PUBLICAN
SECURITY
SHIPMENT
Fraud Pattern:
Misdeclaration of HS code
The Challenge
Capturing Tariffs Revenues
The client, a West African Customs administration, reached out to Publican after noticing a significant increase in counterfeit shipments, specifically medication and vaccines, in the wake of the COVID-19 pandemic.
The Shipment
Disassembled Motorcycles From Vietnam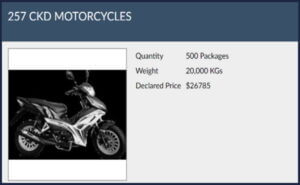 Publican digitally inspects every shipment's documentation and cross-checks it with unique, relevant, and reliable global sources to determine its authenticity.
Risk Vectors Detected by Publican
Scope of Business Misalignment & Weight Inconsistency
The shipper has a variety of unrelated scope of businesses (Motorcycles & wholesale food)
Declared HS Code description and commodity desc do not match (the declared goods are unassembled motorcycles, whereas the declared HS code is for rubber inner tubes)
Market Value: the declared goods didn't match the market value
Impact
Increasing Tariffs Revenues
Publican is fully integrated with the client's internal platform to stop revenue leakage without slowing down the flow of goods.