Customer Success Story:
Combating the Import of Counterfeit Goods
PUBLICAN
SECURITY
SHIPMENT
Risk:
Revenue, public health and safety
Fraud Pattern:
Goods misvaluation
The Challenge
Stop Counterfeits from crossing the Border
The client, a West African Customs administration, reached out to Publican after noticing a significant increase in counterfeit shipments, specifically medication and vaccines, in the wake of the COVID-19 pandemic.
The Shipment
A Sesame Seed Cleaning Machine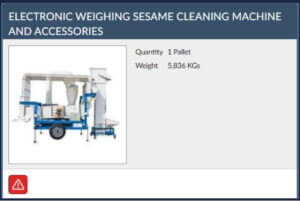 Publican digitally inspects every shipment's documentation and cross-checks it with unique, relevant, and reliable global sources to determine its authenticity. 
Risk Vectors Detected by Publican
Scope of Business Misalignment & Weight Inconsistency
The shipper's scope of business does not include any kind of machine, nor does it appear in the company's brochure.
The shipper is connected to a company that distribute dangerous substances
Volume and weight inconsistency – Publican's calculation shows the shipment should be 4.3 tons while the actual weight was 5.8 tons.
Impact
Ensuring Public Safety
The trafficking of counterfeit goods poses a significant health and safety threat to consumers. It also impacts the economic growth of legitimate businesses and consumers through lost revenue, downtime, and replacement costs. To mitigate these threats and help ensure public safety, customs administrations use Publican to dismantle counterfeit imports and hold individuals involved in them accountable.