Customer Success Story:
Almonds Shipment from Europe leans on an Adjacent Classification
PUBLICAN
SECURITY
SHIPMENT
A shipment heading from Europe to Africa that contained almonds was classified as hazelnuts.
Findings: Publican Detected a High Risk of Valuation Concern
• The goods description was listed as Almonds, but the importer used an adjacent tari for hazelnuts.
• A thorough trade analysis of the importer and exporter revealed that the importer is an almond trader.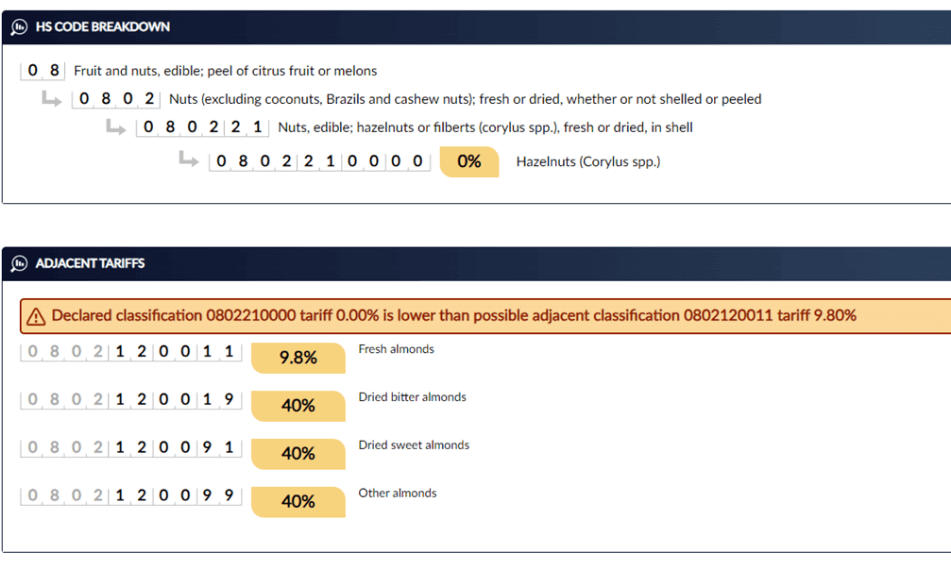 Almonds have an import tax of 9.8% and can go as high as 40%, whereas hazelnuts have a 0% tax rate.
How did Publican uncover this?
After analyzing every entity in the shipment including the shipper's scope of business, possible adjacent taris, the goods descriptions and more, Publican concluded a high likelihood for valuation concern.
Impact
Publican was able to automatically recommend the African customs authority the correct HS codes and tari rates for the Almonds, alongside calculating the exact revenues to be accrued from the corrected classification which stood at almost $100,000.